Friends of the Moultonborough Public Library
The Friends of Moultonborough Public Library is a volunteer group whose mission is to promote literacy in the community by supporting and enhancing the services of our local public library.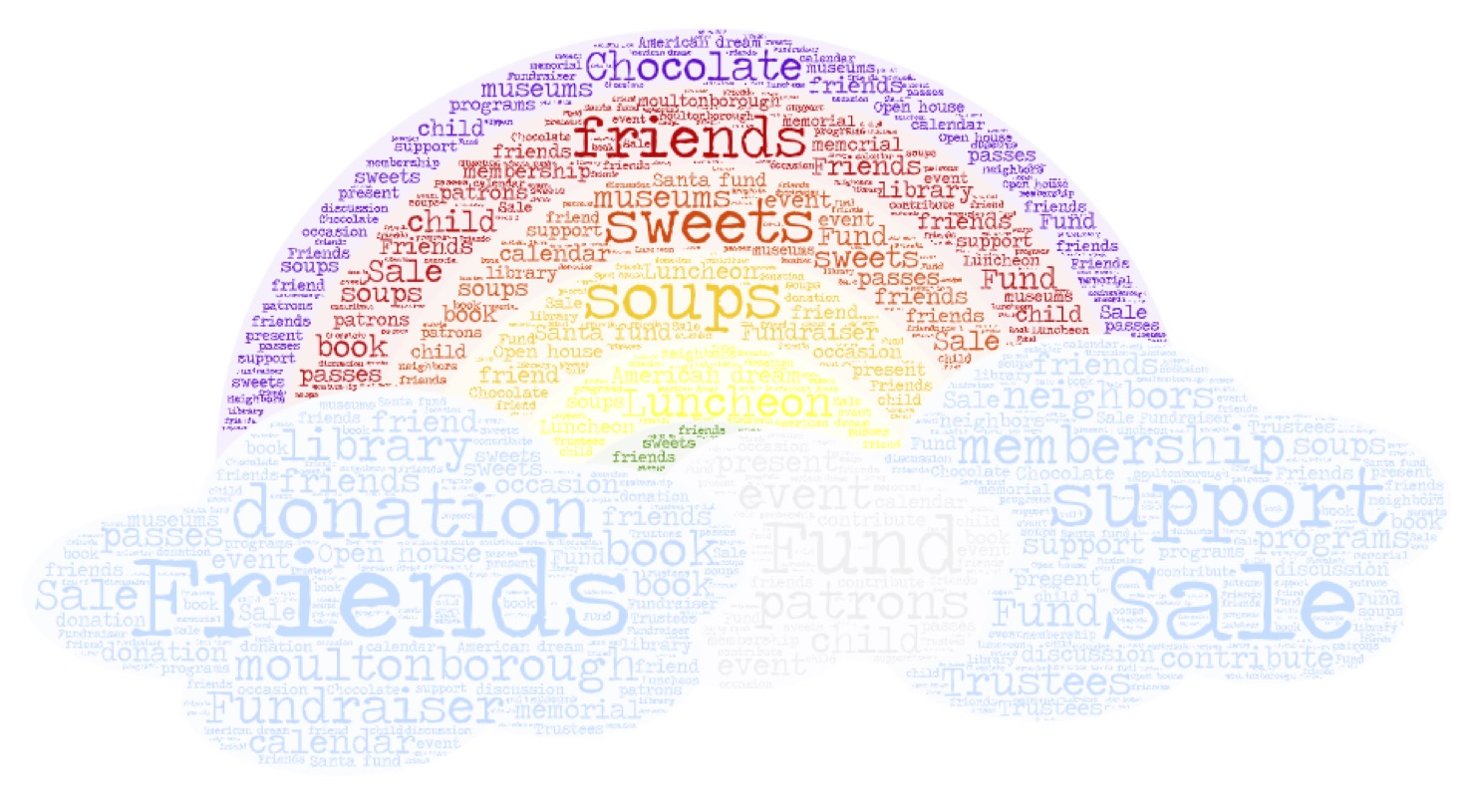 Highlights - Supporting the Library
In 2018, the Friends contributed more than $13,000 to various library projects.
In 2019 the friends contributed $11,000 to various library or community projects.
In 2020 the Friends group hosted their 8th annual, very well atteneded, Free Soup and Sweets event
In 2021 the Friends funded a virtual magic show!
Newsletters
Click here to view the Friends of Moultonborough Public Library Spring 2020 Newsletter
How the Friends Support MPL
The Friends currently provide support for the following events and programs:
Youth Summer Reading Programs

Free or greatly discounted museum and local attraction passes. To see a list, click here.

One-Book-One-Child in collaboration with local schools

Literary Discussion Series

Landscaping

Soup N' Sweets

Chocolate Fare

Holiday Open House

Book & Author Luncheon

Additional materials for the library collection
Interested in joining the Friends of Moultonborough Public Library?
Click here to view the Friends of the Library Membership form
Contact the Friends of MPL
email: friends@moultonboroughlibrary.org
---
Literary Discussions
Hosted by the Friends
The Friends of MPL host theme-centered literary discussions throughout the year. Typically, there are three books chosen for two seasons, such as Spring/Summer.
Anyone is welcome to join in to reflect on the reading. Read one or read them all! The chosen books are discussed and these meetings often attended by a scholarly guest!
To learn more about the Friends of Moultonborough Public Library Book Discussion Series, click here.
---